Baseline: Deploy & Develop
6 ore Introduttivi universal_currency_alt 16 crediti
In this introductory-level quest, you will learn the fundamentals of developing and deploying applications on the Google Cloud Platform. You will get hands-on experience with the Google App Engine framework by launching applications written in languages like Python, Ruby, and Java (just to name a few). You will see first-hand how straightforward and powerful GCP application frameworks are, and how easily they integrate with GCP database, data-loss prevention, and security services.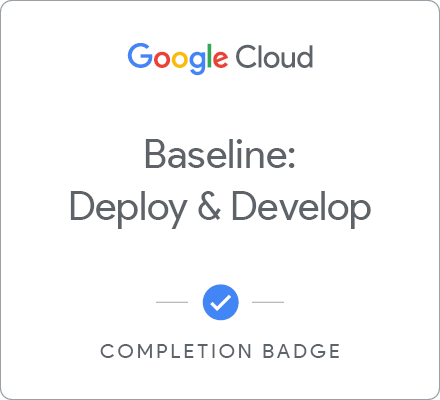 Completa questa attività e ottieni un badge! Fai un passo avanti nella tua carriera nel cloud mostrando a tutti le tue nuove capacità.
info
Informazioni corso
This Quest builds on a basic understanding of the Google Cloud Platform, the Console and its Services. It is recommended that the student have earned a Badge by completing the hands-on labs in the
GCP Essentials Quest
before beginning.
English
Cosa faccio al termine del corso?
Al termine di questo corso, puoi esplorare contenuti aggiuntivi nel tuo percorso di apprendimento o esplorare il catalogo formativo
Quali badge posso guadagnare?
Al termine di un corso, guadagnerai un badge di completamento. I badge possono essere visualizzati sul tuo profilo e condivisi sul tuo social network.
Ti interessa seguire questo corso con uno dei nostri partner on demand?
Preferisci l'apprendimento con un insegnante?