Getting Started with Google Kubernetes Engine
5 days Introductory universal_currency_alt 25 Credits
In this course, each module aims to build on your ability to interact with GKE, and includes hands-on labs for you to experience functionalities first-hand. In the first module, you'll be introduced to a range of Google Cloud services and features, with a view to helping you choose the right Google Cloud services to create your own cloud solution. You'll learn about creating a container using Cloud Build, and store a container in Container Registry. You'll also compare and contrast the features of Kubernetes and Google Kubernetes Engine, also referred to as GKE. In addition to conceptualizing the Kubernetes architecture, you'll deploy a Kubernetes cluster using GKE, deploy Pods to a GKE cluster, and view and manage Kubernetes objects.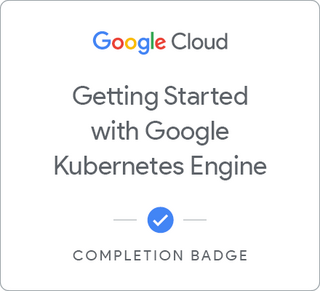 When you complete this course, you can earn the badge displayed above! View all the badges you have earned by visiting your profile page. Boost your cloud career by showing the world the skills you have developed!
info
Course Info
Discuss the differences among Google Cloud compute platforms
Discuss the components and architecture of Kubernetes
Store container images in Container Registry
Explain how pod networking works in Google Kubernetes Engine.
Create and manage Google Kubernetes Engine clusters using the Google Cloud console and gcloud/kubectl commands.
No prerequisite courses. To get the most out of this course, learners should have basic proficiency with command-line tools and Linux operating system environments, as well as Web server technologies such as Nginx. We also recommend systems operations experience, including deploying and managing applications, either on-premises or in a public cloud environment.
This class is intended for the following participants: - Application developers, Cloud Solutions Architects, DevOps Engineers, IT managers. - Individuals using Google Cloud to create new solutions or to integrate existing systems, application environments, and infrastructure with Google Cloud. - Executives and business decision makers evaluating the potential of GKE to address business needs.
English
What do I do when I finish this course?
After finishing this course, you can explore additional content in your learning path or browse the catalog.
Upon finishing the required items in a course, you will earn a badge of completion. Badges can be viewed on your profile and shared with your social network.
Interested in taking this course with one of our authorized on-demand partners?
Prefer learning with an instructor?
View the public classroom schedule
here.
Can I take this course for free?
When you enroll into most courses, you will be able to consume course materials like videos and documents for free. If a course consists of labs, you will need to purchase an individual subscription or credits to be able consume the labs. Labs can also be unlocked by any campaigns you participate in. All required activities in a course must be completed to be awarded the completion badge.