Google Meet and Google Chat
1 day Introductory universal_currency_alt Free
In this course we will introduce you to Google Meet and Google Chat, Google's video conference and chat software included with Google Workspace.
You will learn how to create and manage video conference meetings using Google Meet. You will also explore how to use Google Chat for simple one-to-one and small group conversations, and how Chat rooms are used in Google Chat to better collaborate with others.
You will step into the Google Meet environment so that you become familiar with the different ways you can open Google Meet and add people to a video conference. We will also look at how to join a meeting from different sources such as a calendar event or meeting link.
You will learn how Google Meet can help you better communicate, exchange ideas, and share resources with your team wherever they are.
We will also discuss how to customize the Google Meet environment to fit your needs. We will talk about managing participants and how to effectively use chat messages during a video conference. We will explore the different ways to share resources, such as via calendar invites or attachments.
With Google Chat, you can use direct messaging to have a private conversation with a colleague or a small group of people. You will learn more about Google Chat's unique features and how Google Chat can enhance your organization's ability to communicate and collaborate.
Direct messages to a person or small group may be appropriate for impromptu conversations, but a chat room may be better suited for long-term conversations, particularly with a group that changes, or a large project team. You will explore the use of Chat rooms in Google Chat.
We will look at some of the ways you can use Google Chat to effectively collaborate with others. We will look at how you can upload and share files with others from Google Chat.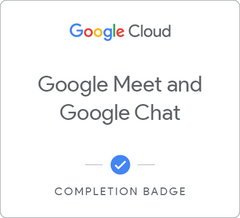 When you complete this course, you can earn the badge displayed above! View all the badges you have earned by visiting your profile page. Boost your cloud career by showing the world the skills you have developed!
info
Course Info
Describe Google Meet and Google Chat.
Describe options for opening, starting and joining a Google Meet video conference.
Describe the features available in Google Meet.
Manage a Google Meet video conference.
Streamline workflow and collaboration capabilities among virtual teams using Google Chat.
Describe how Chat rooms can be used to organize and focus conversations.
Describe the collaboration and productivity features available in Google Chat.
None
New Google Workspace users
English
What do I do when I finish this course?
After finishing this course, you can explore additional content in your learning path or browse the catalog.
Upon finishing the required items in a course, you will earn a badge of completion. Badges can be viewed on your profile and shared with your social network.
Interested in taking this course with one of our authorized on-demand partners?
Prefer learning with an instructor?
View the public classroom schedule
here.
Can I take this course for free?
When you enroll into most courses, you will be able to consume course materials like videos and documents for free. If a course consists of labs, you will need to purchase an individual subscription or credits to be able consume the labs. Labs can also be unlocked by any campaigns you participate in. All required activities in a course must be completed to be awarded the completion badge.