VM Migration
6 hours Advanced universal_currency_alt 17 Credits
Google Cloud's four step structured Cloud Migration Path Methodology provides a defined and repeatable path for users to follow when migrating and modernizing Virtual Machines. In this quest, you will get hands-on practice with Google's current solution set for VM assessment, planning, migration, and modernization. You will start by analyzing your lab environment and building assessment reports with CloudPhysics and StratoZone, then build a landing zone within Google Cloud leveraging Terraform's infrastructure-as-code templates, next you will manually transform a two-tier application into a cloud-native workload running on Kubernetes, and finally, transform a VM workload into Kubernetes with Migrate for Anthos and migrate a VM between cloud environments.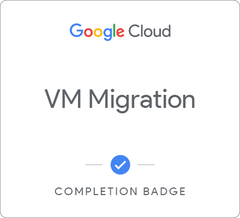 When you complete this activity, you can earn the badge displayed above! View all the badges you have earned by visiting your profile page. Boost your cloud career by showing the world the skills you have developed!
info
Quest Info
English, Deutsch, 日本語, español (Latinoamérica), français, and português (Brasil)
What do I do when I finish this quest?
After finishing this quest, you can explore additional content in your learning path or browse the learning catalog.
Upon finishing a quest, you will earn a badge of completion. Some quests test your ability to apply your knowledge via a final assessment challenge lab. For these quests, you will receive a skill badge. Badges can be viewed on your profile and shared with your social network.