Google Developer Essentials
3 godz. Wprowadzające universal_currency_alt Punkty: 8
This introductory-level quest shows application developers how the Google Cloud ecosystem could help them build secure, scalable, and intelligent cloud native applications. You learn how to develop and scale applications without setting up infrastructure, run data analytics, gain insights from data, and develop with pre-trained ML APIs to leverage machine learning even if you are not a Machine Learning expert. You will also experience seamless integration between various Google services and APIs to create intelligent apps.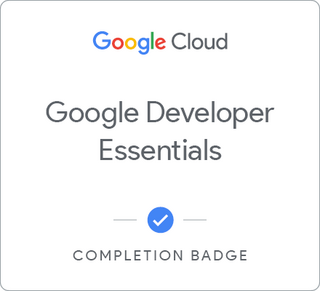 Jeśli wykonasz to działanie, otrzymasz odznakę. Rozwijaj swoją karierę w chmurze przez pokazanie światu zdobytych umiejętności.
info
Informacje o kursie
English, 日本語, français, español (Latinoamérica) oraz português (Brasil)
Co mogę zrobić po ukończeniu tego kursu?
Po ukończeniu kursu możesz zapoznać się z dodatkowymi materiałami ze swojej ścieżki szkoleniowej lub przejrzeć katalog.
Jakie odznaki mogę zdobyć?
Po kursie otrzymasz odznakę potwierdzającą jego ukończenie. W przypadku niektórych kursów musisz potwierdzić, że potrafisz zastosować zdobytą wiedzę w praktyce, zaliczając moduł Challenge Lab. Za takie kursy otrzymasz odznakę umiejętności. Odznaki możesz wyświetlać w swoim profilu i udostępniać w sieciach społecznościowych.