Intro to ML: Image Processing
4 godz. Wprowadzające universal_currency_alt Punkty: 19
Using large scale computing power to recognize patterns and "read" images is one of the foundational technologies in AI, from self-driving cars to facial recognition. The Google Cloud Platform provides world class speed and accuracy via systems that can utilized by simply calling APIs. With these and a host of other APIs, GCP has a tool for just about any machine learning job. In this introductory quest, you will get hands-on practice with machine learning as it applies to image processing by taking labs that will enable you to label images, detect faces and landmarks, as well as extract, analyze, and translate text from within images.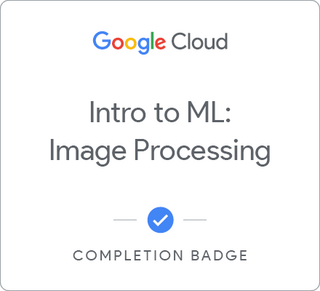 Jeśli wykonasz to działanie, otrzymasz odznakę. Rozwijaj swoją karierę w chmurze przez pokazanie światu zdobytych umiejętności.
info
Informacje o kursie
English, français, español (Latinoamérica), 日本語, português (Brasil) oraz Deutsch
Co mogę zrobić po ukończeniu tego kursu?
Po ukończeniu kursu możesz zapoznać się z dodatkowymi materiałami ze swojej ścieżki szkoleniowej lub przejrzeć katalog.
Jakie odznaki mogę zdobyć?
Po kursie otrzymasz odznakę potwierdzającą jego ukończenie. W przypadku niektórych kursów musisz potwierdzić, że potrafisz zastosować zdobytą wiedzę w praktyce, zaliczając moduł Challenge Lab. Za takie kursy otrzymasz odznakę umiejętności. Odznaki możesz wyświetlać w swoim profilu i udostępniać w sieciach społecznościowych.