Intro to ML: Image Processing
4 hours Introductory universal_currency_alt 19 Credits
Using large scale computing power to recognize patterns and "read" images is one of the foundational technologies in AI, from self-driving cars to facial recognition. The Google Cloud Platform provides world class speed and accuracy via systems that can utilized by simply calling APIs. With these and a host of other APIs, GCP has a tool for just about any machine learning job. In this introductory quest, you will get hands-on practice with machine learning as it applies to image processing by taking labs that will enable you to label images, detect faces and landmarks, as well as extract, analyze, and translate text from within images.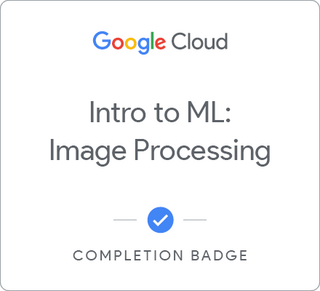 When you complete this activity, you can earn the badge displayed above! View all the badges you have earned by visiting your profile page. Boost your cloud career by showing the world the skills you have developed!
info
Quest Info
English, français, español (Latinoamérica), 日本語, português (Brasil), and Deutsch
What do I do when I finish this quest?
After finishing this quest, you can explore additional content in your learning path or browse the learning catalog.
Upon finishing a quest, you will earn a badge of completion. Some quests test your ability to apply your knowledge via a final assessment challenge lab. For these quests, you will receive a skill badge. Badges can be viewed on your profile and shared with your social network.