Intermediate ML: TensorFlow on Google Cloud
6 godz. Wprowadzające universal_currency_alt Punkty: 9
TensorFlow is an open source software library for high performance numerical computation that's great for writing models that can train and run on platforms ranging from your laptop to a fleet of servers in the Cloud to an edge device. This quest takes you beyond the basics of using predefined models and teaches you how to build, train and deploy your own on Google Cloud.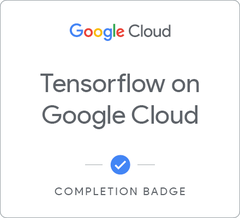 Jeśli wykonasz to działanie, otrzymasz odznakę. Rozwijaj swoją karierę w chmurze przez pokazanie światu zdobytych umiejętności.
Moduł
In this lab, you learn the basic 'Hello World' of machine learning. Instead of programming explicit rules in a language such as Java or C++, you build a system that is trained on data to infer the rules that determine a relationship between numbers.
Moduł
In this lab, you will learn how to classify images of cats and dogs by using transfer learning from a pre-trained network.
Moduł
In this lab, you will use TensorFlow's distribution strategies and the Vertex AI platform to train and deploy a custom TensorFlow image classification model to classify an image classification dataset.
Moduł
warning Creating an Object Detection Application Using TensorFlow
This lab will show you how to install and run an object detection application. The application uses TensorFlow and other public API libraries to detect multiple objects in an uploaded image.
info
Informacje o kursie
English
Co mogę zrobić po ukończeniu tego kursu?
Po ukończeniu kursu możesz zapoznać się z dodatkowymi materiałami ze swojej ścieżki szkoleniowej lub przejrzeć katalog.
Jakie odznaki mogę zdobyć?
Po kursie otrzymasz odznakę potwierdzającą jego ukończenie. W przypadku niektórych kursów musisz potwierdzić, że potrafisz zastosować zdobytą wiedzę w praktyce, zaliczając moduł Challenge Lab. Za takie kursy otrzymasz odznakę umiejętności. Odznaki możesz wyświetlać w swoim profilu i udostępniać w sieciach społecznościowych.