Cloud Logging
5시간 입문 universal_currency_alt 크레딧 9개
Cloud Logging is a fully managed service that performs at scale. It can ingest application and system log data from thousands of VMs and, even better, analyze all that log data in real time. In this fundamental-level Quest, you learn how to store, search, analyze, monitor, and alert on log data and events from Google Cloud. The labs in the Quest give you hands-on practice using Cloud Logging to maximize your learning experience and provide insight on how you can use Cloud Logging to your own Google Cloud environment.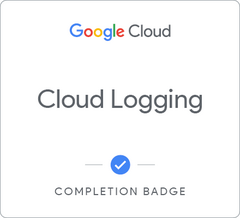 이 설문조사를 완료해 배지를 획득하세요. 자신이 개발한 기술을 전 세계에 보여주고 클라우드 경력을 키우세요.
info
퀘스트 정보
English
퀘스트를 완료한 후 학습 과정에서 다른 콘텐츠를 살펴보거나 학습 카탈로그를 둘러보면 됩니다.
퀘스트를 완료하면 이수 배지가 주어집니다. 일부 퀘스트에서는 최종 평가 챌린지 실습을 통해 지식을 적용하는 역량을 테스트합니다. 이러한 퀘스트를 완료하면 기술 배지를 받을 수 있습니다. 배지는 프로필에 표시되며 사회 연결망에서 공유할 수 있습니다.