Kubernetes Solutions
8 hours Expert universal_currency_alt 38 Credits
Containerized applications have changed the game and are here to stay. With Kubernetes, you can orchestrate containers with ease, and integration with the Google Cloud Platform is seamless. In this advanced-level quest, you will be exposed to a wide range of Kubernetes use cases and will get hands-on practice architecting solutions over the course of 8 labs. From building Slackbots with NodeJS, to deploying game servers on clusters, to running the Cloud Vision API, Kubernetes Solutions will show you first-hand how agile and powerful this container orchestration system is.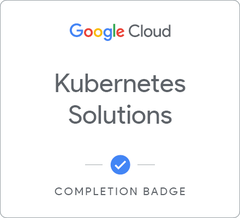 When you complete this activity, you can earn the badge displayed above! View all the badges you have earned by visiting your profile page. Boost your cloud career by showing the world the skills you have developed!
Lab
Dev Ops best practices make use of multiple deployments to manage application deployment scenarios. This lab provides practice in scaling and managing containers to accomplish common scenarios where multiple heterogeneous deployments are used.
Lab
In this lab you will learn how to configure a highly available application by deploying WordPress using regional persistent disks on Kubernetes Engine.
Lab
Hands-on lab to deploy the NGINX Ingress Controller on Google Kubernetes Engine.
Lab
Lab has instructions to conduct distributed load testing with Kubernetes, which includes a sample web application, Docker image, and Kubernetes deployments/services.
Lab
This lab will show you how to use an expandable architecture for running a real-time, session-based multiplayer dedicated game server using Kubernetes on Google Container Engine.
Lab
This hands-on lab uses Kubernetes and Cloud Vision API to create an example of how to use the Vision API to classify (label) images from Reddit's /r/aww subreddit and display the labelled results in a web app.
Lab
warning Running a MongoDB Database in Kubernetes with StatefulSets
Containers are becoming a popular way to run and scale applications across multiple cloud providers or on both cloud and on-premise hardware. This lab provides a quick introduction to running a MongoDB database on Kubernetes Engine using Docker.
Lab
warning Deploy a Web App on GKE with HTTPS Redirect using Lets Encrypt
This lab shows you how to deploy a web app with a browser-trusted TLS certificate. You also deploy an HTTPS redirect on GKE using Let's Encrypt, NGINX Ingress, and Cloud Endpoints.
info
Quest Info
This Quest builds on an understanding of Kubernetes and the Google Kubernetes Engine, and extends basic GKE operations into integrations with other GCP services. It is recommended that the student has earned the Badge for the
Cloud Architecture
Quest and the
Kubernetes in the Google Cloud
Quest before beginning.
English, français, español (Latinoamérica), 日本語, português (Brasil), and Deutsch
What do I do when I finish this quest?
After finishing this quest, you can explore additional content in your learning path or browse the learning catalog.
Upon finishing a quest, you will earn a badge of completion. Some quests test your ability to apply your knowledge via a final assessment challenge lab. For these quests, you will receive a skill badge. Badges can be viewed on your profile and shared with your social network.