Data Science on Google Cloud
6 hours Intermediate universal_currency_alt 22 Credits
This is the first of two Quests of hands-on labs is derived from the exercises from the book Data Science on Google Cloud Platform, 2nd Edition by Valliappa Lakshmanan, published by O'Reilly Media, Inc. In this first Quest, covering up through chapter 8, you are given the opportunity to practice all aspects of ingestion, preparation, processing, querying, exploring and visualizing data sets using Google Cloud tools and services.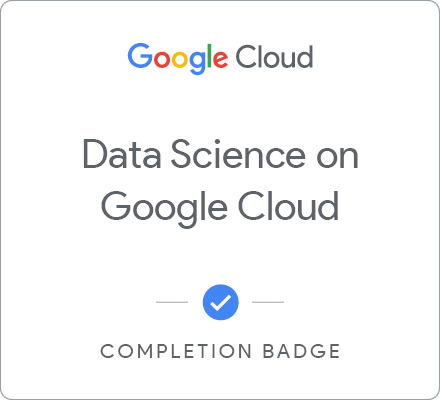 When you complete this activity, you can earn the badge displayed above! View all the badges you have earned by visiting your profile page. Boost your cloud career by showing the world the skills you have developed!
Lab
In this lab you will learn fundamental SQL clauses and will get hands on practice running structured queries on BigQuery and Cloud SQL.
Lab
In this lab you'll learn how to use a bash script to download selected data from a large public data set that is available on the internet.
Lab
In this lab you will import data from CSV text files into Cloud SQL and then carry out some basic data analysis using simple queries.
Lab
This lab demonstrates how to use Google Data Studio to visualize data stored in Google BigQuery.
Lab
In this lab you will simulate a real-time real world data set from a historical data set. This simulated data set will be processed from a set of text files using Python and Google Cloud DataFlow, and the resulting simulated real-time data will be stored in Google BigQuery.
Lab
warning [DEPRECATED] Interactive Data Exploration with Vertex AI Workbench
Learn the process of analyzing a data set stored in BigQuery using Vertex AI Workbench to perform queries and present the data using various statistical plotting techniques.
Lab
Learn the process for partitioning a data set into a training set that will be used to develop a model, and a test set that can then be used to evaluate the accuracy of the model and then independently evaluate predictive models in a repeatable manner.
info
Quest Info
This Quest assumes you have access to the O'Reilly book
Data Science on the Google Cloud Platform
as the labs only include the exercises from the end of each chapter and do not contain the concepts or teaching from the text itself. The labs use Google Cloud Services and Tools for data storage, transformation, and warehousing, so it is recommended that the student also has earned Badges for the
Baseline: Data, ML, and AI
and the
GCP Essentials
Quests before beginning.
English, français, português (Brasil), español (Latinoamérica), and 日本語
What do I do when I finish this quest?
After finishing this quest, you can explore additional content in your learning path or browse the learning catalog.
Upon finishing a quest, you will earn a badge of completion. Some quests test your ability to apply your knowledge via a final assessment challenge lab. For these quests, you will receive a skill badge. Badges can be viewed on your profile and shared with your social network.