Application Development - Python
6 hours Advanced universal_currency_alt 24 Credits
In this advanced-level quest, you will learn the ins and outs of developing GCP applications in Python. The first labs will walk you through the basics of environment setup and application data storage with Cloud Datastore. Once you have a handle on the fundamentals, you will get hands-on practice deploying Python applications on Kubernetes and App Engine (the latter is the same framework that powers Snapchat!) With specialized bonus labs that teach user authentication and backend service development, this quest will give you practical experience so you can start developing robust Python applications straight away.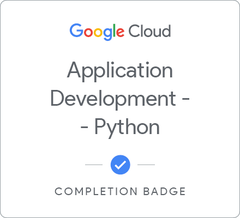 When you complete this activity, you can earn the badge displayed above! View all the badges you have earned by visiting your profile page. Boost your cloud career by showing the world the skills you have developed!
info
Quest Info
As this Quest relies heavily on the Python programming language, the student should be an experienced programmer with Python. This Quest requires prior hands-on experience with GCP computing and storage services. It is recommended that the student have at least earned a Badge by completing the hands-on labs in the
Cloud Architecture
and/or the
Baseline: Deploy and Develop
Quests before beginning.
English
What do I do when I finish this quest?
After finishing this quest, you can explore additional content in your learning path or browse the learning catalog.
Upon finishing a quest, you will earn a badge of completion. Some quests test your ability to apply your knowledge via a final assessment challenge lab. For these quests, you will receive a skill badge. Badges can be viewed on your profile and shared with your social network.