Security & Identity Fundamentals
1 天 Fundamental universal_currency_alt 16 个积分
Security is an uncompromising feature of Google Cloud services, and Google Cloud has developed specific tools for ensuring safety and identity across your projects. In this fundamental-level quest, you will get hands-on practice with Google Cloud's Identity and Access Management (IAM) service, which is the go-to for managing user and virtual machine accounts. You will get experience with network security by provisioning VPCs and VPNs, and learn what tools are available for security threat and data loss protections. Looking for a hands on challenge lab to demonstrate your skills and validate your knowledge? On completing this quest, enroll in and finish the additional challenge lab at the end of
this quest
to receive an exclusive Google Cloud digital badge.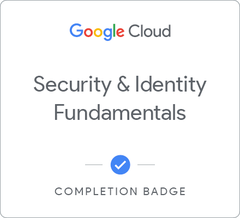 完成此活动,赢取徽章!向世界展示您掌握的技能,拓展云领域的职业之路。
info
挑战任务信息
Although this quest will teach you the fundamentals of Identity and Access Management (IAM) and Security in Google Cloud, you will still need hands-on experience with the platform's core tools and services. It is recommended that the student have at least earned a Badge by completing the
Google Cloud Essentials
and/or the
Baseline: Infrastructure
Quests before beginning.
English, français, español (Latinoamérica), 日本語, português (Brasil), and Deutsch
完成此挑战任务后,您可以探索学习路线中的其他内容或浏览学习目录。
完成挑战任务后,您将获得结业徽章。有些挑战任务会通过最终知识评测实验室挑战赛来考查您运用所学知识的能力。对于这些挑战任务,您将获得技能徽章。徽章可在个人资料中供查看,还可在社交网络上分享。