Baseline: Deploy & Develop
6 ore Introduttivi universal_currency_alt 15 crediti
In this introductory-level quest, you will learn the fundamentals of developing and deploying applications on the Google Cloud Platform. You will get hands-on experience with the Google App Engine framework by launching applications written in languages like Python, Ruby, and Java (just to name a few). You will see first-hand how straightforward and powerful GCP application frameworks are, and how easily they integrate with GCP database, data-loss prevention, and security services.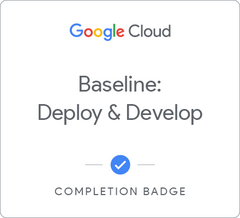 Completa questa attività e ottieni un badge! Fai un passo avanti nella tua carriera nel cloud mostrando a tutti le tue nuove capacità.
Lab
In this hands-on lab you will learn how to perform basic tasks in Cloud Storage using the gsutil command-line tool. For a short preview, watch Cloud SDK - Essential Command-Line Tools for Google Cloud Platform.
Lab
In this lab you will create a local Git repository that contains files for a sample App Engine application, add a GCP repository as a remote, and push the contents of the local repository.
Lab
This hands-on lab will show you how to store and query data in Google Cloud Datastore using the Google Cloud Platform.
Lab
Create a Google Cloud SQL PostgreSQL instance. Perform SQL operations using the GCP Console and the psql client.
Lab
In this lab you will set up the Data Loss Prevention API and and use the API to inspect a string of data for sensitive information.
Lab
The Data Loss Prevention API provides programmatic access to a powerful detection engine for privacy-sensitive data. In this lab, you will learn how to use this API to inspect a string of data for sensitive information.
Lab
The Cloud Security Scanner identifies security vulnerabilities in your Google App Engine web applications.
Lab
In questo lab eseguirai il deployment di un'API di esempio con Google Cloud Endpoints.
info
Informazioni Quest
This Quest builds on a basic understanding of the Google Cloud Platform, the Console and its Services. It is recommended that the student have earned a Badge by completing the hands-on labs in the
GCP Essentials Quest
before beginning.
English
Cosa faccio al termine della Quest?
Al termine della Quest, puoi esplorare contenuti aggiuntivi nel tuo percorso di apprendimento o esplorare il catalogo formativo.
Quali badge posso guadagnare?
Al termine di una Quest, guadagnerai un badge di completamento. Alcune Quest mettono alla prova la tua capacità di applicare le tue conoscenze tramite un Challenge Lab finale di valutazione. Per le Quest di questo tipo, riceverai un badge delle competenze. I badge possono essere visualizzati sul tuo profilo e condivisi sul tuo social network.