Google Cloud Solutions I: Scaling Your Infrastructure
8 hours Expert universal_currency_alt 37 Credits
In this advanced-level quest, you will learn how you to harness serious Google Cloud power and infrastructure. The hands-on labs will give you use cases and you will be tasked with implementing scaling practices utilized by Google's very own Solutions Architecture team. From developing enterprise grade load balancing and autoscaling, to building continuous delivery pipelines, Google Cloud Solutions I: Scaling your Infrastructure will teach you best practices for taking your Google Cloud projects to the next level.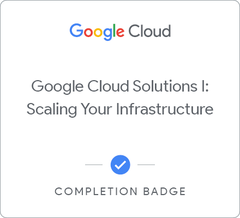 When you complete this activity, you can earn the badge displayed above! View all the badges you have earned by visiting your profile page. Boost your cloud career by showing the world the skills you have developed!
info
Quest Info
This Quest expects solid hands-on proficiency with Google Cloud workflows and processes, especially those involving multiple services working together. It is recommended that the student have at least earned a badge by completing the hands-on labs in the
Kubernetes Solutions
and
Networking in the Google Cloud
Quests before beginning. Additional experience with the labs in the
Cloud Architecture
Quest will also be useful.
English
What do I do when I finish this quest?
After finishing this quest, you can explore additional content in your learning path or browse the learning catalog.
Upon finishing a quest, you will earn a badge of completion. Some quests test your ability to apply your knowledge via a final assessment challenge lab. For these quests, you will receive a skill badge. Badges can be viewed on your profile and shared with your social network.