Networking Fundamentals in Google Cloud
4 hours Introductory universal_currency_alt 12 Credits
Networking is a principle theme of cloud computing. It's the underlying structure of Google Cloud, and it's what connects all your resources and services to one another. This quest will cover essential Google Cloud networking services and will give you hands-on practice with specialized tools for developing mature networks. From learning the ins-and-outs of VPCs, to creating enterprise-grade load balancers, Networking Fundamentals in the Google Cloud will give you the practical experience needed so you can start building robust networks right away.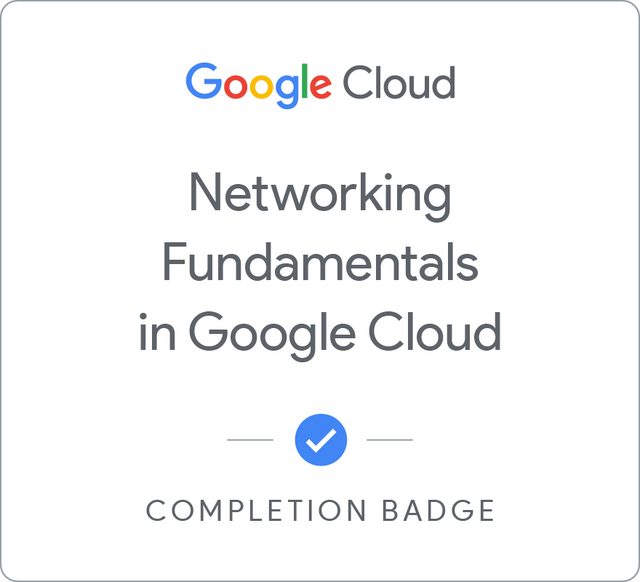 When you complete this activity, you can earn the badge displayed above! View all the badges you have earned by visiting your profile page. Boost your cloud career by showing the world the skills you have developed!
info
Quest Info
The labs in this quest will teach you networking basics and advanced features incrementally, but hands-on experience with Google Cloud's core computing and infrastructure services is required before beginning. It is recommended that the students have at least earned a badge by completing the hands-on labs in the
Google Cloud Essentials
quest.
English, 日本語, français, español (Latinoamérica), and português (Brasil)
What do I do when I finish this quest?
After finishing this quest, you can explore additional content in your learning path or browse the learning catalog.
Upon finishing a quest, you will earn a badge of completion. Some quests test your ability to apply your knowledge via a final assessment challenge lab. For these quests, you will receive a skill badge. Badges can be viewed on your profile and shared with your social network.