Measure Site Reliability using Cloud Operations Suite
1 jour Débutant universal_currency_alt 9 crédits
Earn a
skill badge
by completing the
Measure Site Reliability using Cloud Operations Suite
quest, where you will learn how to set Service Level Indicators (SLIs), Service Level Objectives (SLOs), and Service Level Agreements (SLAs); create logs-based metrics to capture to capture specific issues and address them; define alerts to notify Site Reliability Engineers of issues in production environment, and troubleshoot application issues with Cloud Trace, Debugger, Profiler, Monitoring and Logging.

A skill badge is an exclusive digital badge issued by Google Cloud in recognition of your proficiency with Google Cloud products and services and tests your ability to apply your knowledge in an interactive hands-on environment. Complete this skill badge quest, and the final assessment challenge lab, to receive a skill badge that you can share with your network.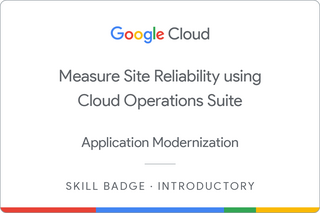 Terminez cette activité et gagnez un badge ! Boostez votre carrière dans le cloud en montrant les compétences que vous avez acquises.
info
Informations sur la quête
English
Que faire après avoir terminé cette quête ?
Après avoir terminé cette quête, vous pouvez consulter les autres contenus de votre parcours de formation ou parcourir le catalogue de formations.
Quels badges pouvez-vous gagner ?
Lorsque vous terminez une quête, vous obtenez un badge de réussite. Dans certaines quêtes, vous devrez mettre en pratique vos connaissances lors d'une évaluation finale sous forme d'atelier challenge. Pour ces quêtes, vous recevrez un badge de compétence. Vos badges s'affichent sur votre profil, et vous pouvez les partager sur les réseaux sociaux.