Build and Deploy Machine Learning Solutions on Vertex AI
1 day Intermediate universal_currency_alt 21 Credits
Earn a
skill badge
by completing the
Build and Deploy Machine Learning Solutions with Vertex AI
quest, where you will learn how to use Google Cloud's unified Vertex AI platform and its AutoML and custom training services to train, evaluate, tune, explain, and deploy machine learning solutions.

This skill badge quest is for professional Data Scientists and Machine Learning Engineers. The datasets and labs are built around high business impact enterprise machine learning use cases; these include retail customer lifetime value prediction, mobile game churn prediction, visual car part defection identification, and fine tuning BERT for review sentiment classification. Learners who complete this skill badge will gain hands-on experience with Vertex AI for new and existing ML workloads and be able to leverage AutoML, custom training, and new MLOps services to significantly enhance development productivity and accelerate time to value.

A skill badge is an exclusive digital badge issued by Google Cloud in recognition of your proficiency with Google Cloud products and services and tests your ability to apply your knowledge in an interactive hands-on environment. Complete this Skill Badge, and the final assessment challenge lab, to receive a digital badge that you can share with your network.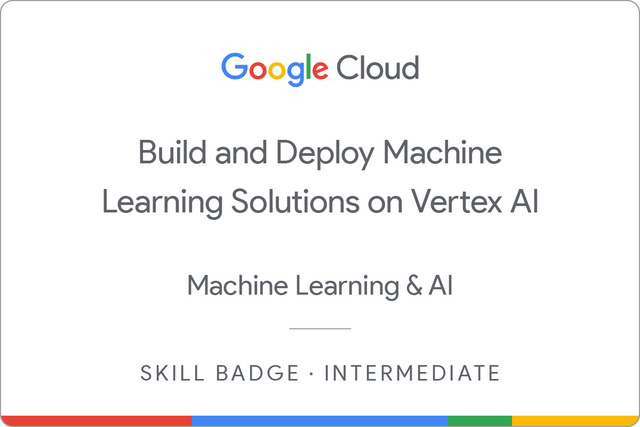 When you complete this activity, you can earn the badge displayed above! View all the badges you have earned by visiting your profile page. Boost your cloud career by showing the world the skills you have developed!
info
Quest Info
Write and train models locally in a hosted Vertex Notebook
Containerize your training code and push it to Google Cloud Artifact Registry
Create managed image dataset artifacts for experiment tracking
Train a BigQuery ML (BQML) XGBoost classifier
Trigger a training job using the Vertex AI Console
Create a custom model evaluation component using the KFP SDK
Incorporate pre-built KFP components into your pipeline
Deploy your trained models to a Vertex Endpoint for online predictions
Query your model for online predictions and explanations
English
What do I do when I finish this quest?
After finishing this quest, you can explore additional content in your learning path or browse the learning catalog.
Upon finishing a quest, you will earn a badge of completion. Some quests test your ability to apply your knowledge via a final assessment challenge lab. For these quests, you will receive a skill badge. Badges can be viewed on your profile and shared with your social network.