Secure and Rate Limit API calls with API Gateway
7 jam Advanced universal_currency_alt 21 Kredit
API Gateway enables you to provide secure access to your backend services through a well-defined REST API that is consistent across all of your services, regardless of the service implementation. Clients consume your REST APIS to implement standalone apps for a mobile device or tablet, through apps running in a browser, or through any other type of app that can make a request to an HTTP endpoint.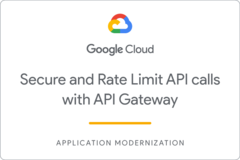 Selesaikan aktivitas ini dan dapatkan badge! Tingkatkan karier cloud Anda dengan menunjukkan keahlian yang telah Anda kembangkan kepada dunia.
info
Info Quest
English
Apa yang harus saya lakukan jika sudah menyelesaikan quest ini?
Setelah menyelesaikan quest ini, Anda dapat menjelajahi konten tambahan di jalur pembelajaran atau mengakses katalog pembelajaran.
Badge apa yang bisa saya dapatkan?
Setelah menyelesaikan quest, Anda akan mendapatkan badge kelulusan. Beberapa quest akan menguji kemampuan Anda dalam menerapkan pengetahuan melalui challenge lab penilaian akhir. Untuk quest tersebut, Anda akan menerima badge keahlian. Badge dapat dilihat di profil dan dibagikan ke jaringan sosial Anda.