Secure and Rate Limit API calls with API Gateway
7 hours Advanced universal_currency_alt 21 Credits
API Gateway enables you to provide secure access to your backend services through a well-defined REST API that is consistent across all of your services, regardless of the service implementation. Clients consume your REST APIS to implement standalone apps for a mobile device or tablet, through apps running in a browser, or through any other type of app that can make a request to an HTTP endpoint.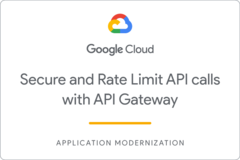 When you complete this activity, you can earn the badge displayed above! View all the badges you have earned by visiting your profile page. Boost your cloud career by showing the world the skills you have developed!
info
Quest Info
English
What do I do when I finish this quest?
After finishing this quest, you can explore additional content in your learning path or browse the learning catalog.
Upon finishing a quest, you will earn a badge of completion. Some quests test your ability to apply your knowledge via a final assessment challenge lab. For these quests, you will receive a skill badge. Badges can be viewed on your profile and shared with your social network.