Flutter Development
6 ore Introduttivi universal_currency_alt 5 crediti
Explore the fundamentals of Flutter application development in this hands-on quest! Within this quest, you will build a "Hello World" Flutter application, design a frontend for a shopping application, and learn how to connect your Flutter applications to backend services. Each lab in this quest utilizes a pre-provisioned development environment allowing minimal setup to get into the application code! Be sure to tag #flutterfestival in your social posts!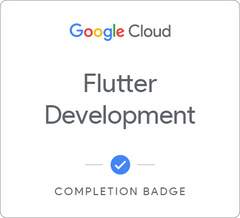 Completa questa attività e ottieni un badge! Fai un passo avanti nella tua carriera nel cloud mostrando a tutti le tue nuove capacità.
info
Informazioni Quest
English
Cosa faccio al termine della Quest?
Al termine della Quest, puoi esplorare contenuti aggiuntivi nel tuo percorso di apprendimento o esplorare il catalogo formativo.
Quali badge posso guadagnare?
Al termine di una Quest, guadagnerai un badge di completamento. Alcune Quest mettono alla prova la tua capacità di applicare le tue conoscenze tramite un Challenge Lab finale di valutazione. Per le Quest di questo tipo, riceverai un badge delle competenze. I badge possono essere visualizzati sul tuo profilo e condivisi sul tuo social network.