Applying BigQuery ML's Classification, Regression, and Demand Forecasting for Retail Applications
6시간 Intermediate universal_currency_alt 크레딧 3개
In this quest you will learn how to use several BigQuery ML features to improve retail use cases. Predict the demand for bike rentals in NYC with demand forecasting, leverage regression to estimate the time it will take for a ticket to be solved with the help of an automated agent developed using Dialogflow, and see how to use BigQuery ML for a classification task that predicts the likelihood of a website visitor making a purchase.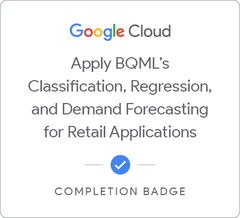 이 설문조사를 완료해 배지를 획득하세요. 자신이 개발한 기술을 전 세계에 보여주고 클라우드 경력을 키우세요.
info
퀘스트 정보
English
퀘스트를 완료한 후 학습 과정에서 다른 콘텐츠를 살펴보거나 학습 카탈로그를 둘러보면 됩니다.
퀘스트를 완료하면 이수 배지가 주어집니다. 일부 퀘스트에서는 최종 평가 챌린지 실습을 통해 지식을 적용하는 역량을 테스트합니다. 이러한 퀘스트를 완료하면 기술 배지를 받을 수 있습니다. 배지는 프로필에 표시되며 사회 연결망에서 공유할 수 있습니다.