Applying BigQuery ML's Classification, Regression, and Demand Forecasting for Retail Applications
6 jam Intermediate universal_currency_alt 3 Kredit
In this quest you will learn how to use several BigQuery ML features to improve retail use cases. Predict the demand for bike rentals in NYC with demand forecasting, leverage regression to estimate the time it will take for a ticket to be solved with the help of an automated agent developed using Dialogflow, and see how to use BigQuery ML for a classification task that predicts the likelihood of a website visitor making a purchase.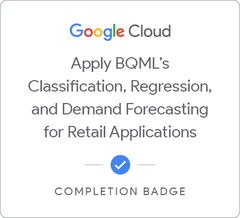 Selesaikan aktivitas ini dan dapatkan badge! Tingkatkan karier cloud Anda dengan menunjukkan keahlian yang telah Anda kembangkan kepada dunia.
info
Info Quest
English
Apa yang harus saya lakukan jika sudah menyelesaikan quest ini?
Setelah menyelesaikan quest ini, Anda dapat menjelajahi konten tambahan di jalur pembelajaran atau mengakses katalog pembelajaran.
Badge apa yang bisa saya dapatkan?
Setelah menyelesaikan quest, Anda akan mendapatkan badge kelulusan. Beberapa quest akan menguji kemampuan Anda dalam menerapkan pengetahuan melalui challenge lab penilaian akhir. Untuk quest tersebut, Anda akan menerima badge keahlian. Badge dapat dilihat di profil dan dibagikan ke jaringan sosial Anda.