Migrating MySQL data to Cloud SQL using Database Migration Service
6 godz. Advanced universal_currency_alt Punkty: 16
This advanced-level quest offers hands-on practice with migrating MySQL data to Cloud SQL using Database Migration Service. You will start with an introductory lab that briefly reviews how to get started with Cloud SQL for MySQL, including how to connect to Cloud SQL instances using the Cloud Console, then continue with two labs focused on migrating MySQL databases to Cloud SQL using different job types and connectivity options available in Database Migration Service. The quest ends with migrating MySQL user data when running Database Migration Service jobs.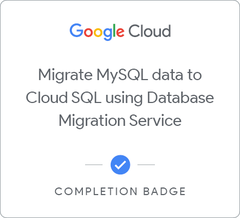 Jeśli wykonasz to działanie, otrzymasz odznakę. Rozwijaj swoją karierę w chmurze przez pokazanie światu zdobytych umiejętności.
info
Informacje o kursie
English
Co mogę zrobić po ukończeniu tego kursu?
Po ukończeniu kursu możesz zapoznać się z dodatkowymi materiałami ze swojej ścieżki szkoleniowej lub przejrzeć katalog.
Jakie odznaki mogę zdobyć?
Po kursie otrzymasz odznakę potwierdzającą jego ukończenie. W przypadku niektórych kursów musisz potwierdzić, że potrafisz zastosować zdobytą wiedzę w praktyce, zaliczając moduł Challenge Lab. Za takie kursy otrzymasz odznakę umiejętności. Odznaki możesz wyświetlać w swoim profilu i udostępniać w sieciach społecznościowych.