Automating Infrastructure on Google Cloud with Terraform
6 hours Fundamental universal_currency_alt 5 Credits
Earn a
skill badge
by completing the
Automating Infrastructure on Google Cloud with Terraform
quest, where you will learn how to write infrastructure as code with Terraform. In this quest, you will get hands-on experience building, changing, and destroying infrastructure, managing local and remote state, importing infrastructure, and building your own modules.
A skill badge is an exclusive digital badge issued by Google Cloud in recognition of your proficiency with Google Cloud products and services and tests your ability to apply your knowledge in an interactive hands-on environment. Complete this skill badge quest and the final assessment challenge lab to receive a skill badge that you can share with your network.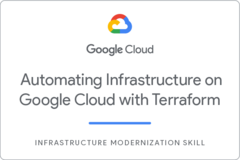 Complete this activity and earn a badge! Boost your cloud career by showing the world the skills you've developed.
info
Quest Info
Learn about configuration files and basic Terraform commands
Provision, modify, and destroy infrastructure with Terraform
Manage local and remote state files
Use an existing module from the Registry and build your own module
English
Bu görevi tamamladıktan sonra ne yapmam gerekiyor?
Bu görevi tamamladıktan sonra öğrenim yolunuzdaki ek içerikleri keşfedebilir veya öğrenim kataloğuna göz atabilirsiniz
Hangi rozetleri kazanabilirim?
Bir görevi tamamladığınızda tamamlama rozeti kazanırsınız. Bazı görevlerde, son bir değerlendirme olarak yarışma laboratuvarı bulunur. Görevde edindiğiniz bilgiler, bu laboratuvarda uygulamalı olarak test edilir. Bu görevlerde beceri rozeti kazanırsınız. Rozetler profilinizde görünür ve sosyal ağlarınızda paylaşılabilir.