Automating Infrastructure on Google Cloud with Terraform
6시간 Fundamental universal_currency_alt 크레딧 5개
Earn a
skill badge
by completing the
Automating Infrastructure on Google Cloud with Terraform
quest, where you will learn how to write infrastructure as code with Terraform. In this quest, you will get hands-on experience building, changing, and destroying infrastructure, managing local and remote state, importing infrastructure, and building your own modules.
A skill badge is an exclusive digital badge issued by Google Cloud in recognition of your proficiency with Google Cloud products and services and tests your ability to apply your knowledge in an interactive hands-on environment. Complete this skill badge quest and the final assessment challenge lab to receive a skill badge that you can share with your network.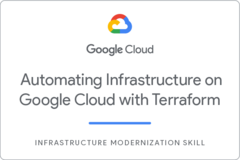 이 설문조사를 완료해 배지를 획득하세요. 자신이 개발한 기술을 전 세계에 보여주고 클라우드 경력을 키우세요.
info
퀘스트 정보
Learn about configuration files and basic Terraform commands
Provision, modify, and destroy infrastructure with Terraform
Manage local and remote state files
Use an existing module from the Registry and build your own module
English
퀘스트를 완료한 후 학습 과정에서 다른 콘텐츠를 살펴보거나 학습 카탈로그를 둘러보면 됩니다.
퀘스트를 완료하면 이수 배지가 주어집니다. 일부 퀘스트에서는 최종 평가 챌린지 실습을 통해 지식을 적용하는 역량을 테스트합니다. 이러한 퀘스트를 완료하면 기술 배지를 받을 수 있습니다. 배지는 프로필에 표시되며 사회 연결망에서 공유할 수 있습니다.