Anthos Service Mesh
6 hours Intermediate universal_currency_alt 7 Credits
This intermediate-level quest is unique among Qwiklabs quests. These labs have been curated to give operators hands-on practice with Anthos—a new, open application modernization platform on Google Cloud. Anthos enables you to build and manage modern hybrid applications. Tasks include: installing service mesh, collecting telemetry, and securing your microservices with service mesh policies. This quest is composed of labs targeted to teach you everything you need to know to introduce service mesh, and Anthos, into your next hybrid cloud project.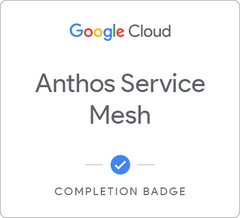 When you complete this activity, you can earn the badge displayed above! View all the badges you have earned by visiting your profile page. Boost your cloud career by showing the world the skills you have developed!
Lab
In this lab you will install the Anthos Service Mesh, and use it with the Bookinfo microservices application, all on a GKE cluster.
Lab
In this lab you will learn about Anthos Service Mesh enabled traffic management use cases, and how to configure fine-grained traffic routing for microservices in the Bookinfo application.
Lab
In this lab you will learn about service mesh authentication, and authorization using Istio, and enable service-to-service authentication using the Hipster Shop microservices application.
info
Quest Info
Install Anthos Service Mesh on Kubernetes Engine.
Observe Services using the Anthos tools in the Cloud Console.
Manage Traffic Routing with Anthos Service Mesh.
Manage Peer Authentication with Anthos Service Mesh.
English
What do I do when I finish this quest?
After finishing this quest, you can explore additional content in your learning path or browse the learning catalog.
Upon finishing a quest, you will earn a badge of completion. Some quests test your ability to apply your knowledge via a final assessment challenge lab. For these quests, you will receive a skill badge. Badges can be viewed on your profile and shared with your social network.