Ensure Access & Identity in Google Cloud
1 Tag Einsteiger universal_currency_alt 20 Guthabenpunkte
Earn a
skill badge
by completing the
Ensure Access & Identity in Google Cloud
quest, where you will learn about many fundamental features of cloud security, including how to recognize and assign roles and users using Identity and Access Management (IAM), assign predefined roles and create custom roles, create and manage service accounts, securely enable private connectivity between resources in multiple virtual private clouds (VPCs), restrict application access based on authentication using Identity-Aware Proxy, set up a secure Cloud Storage bucket and view related audit logs, manage keys and encrypted data using Key Management Service, create a private Kubernetes cluster where nodes are not publicly accessible.
A skill badge is an exclusive digital badge issued by Google Cloud in recognition of your proficiency with Google Cloud products and services and tests your ability to apply your knowledge in an interactive hands-on environment. Complete the skill badge quest, and final assessment challenge lab, to receive a digital badge that you can share with your network.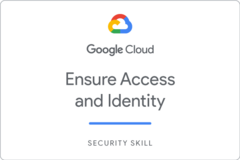 Schließen Sie diese Aktivität ab und holen Sie sich ein Abzeichen! Treiben Sie Ihre Karriere in der Cloud voran, indem Sie allen zeigen, welche Kompetenzen Sie entwickelt haben.
info
Informationen zur Aufgabenreihe
Prior to enrolling in this skill badge quest, it is recommended that you complete the the following quests:
English, español (Latinoamérica), 日本語, français und português (Brasil)