Building Codeless Pipelines on Cloud Data Fusion
7 hours Fundamental universal_currency_alt 20 Credits
This fundamental-level Quest offers hands-on practice with Cloud Data Fusion, a cloud-native, code-free, data integration platform. ETL Developers, Data Engineers and Analysts can greatly benefit from the pre-built transformations and connectors to build and deploy their pipelines without worrying about writing code. This Quest starts with a quickstart lab that familiarises learners with the Cloud Data Fusion UI. Learners then get to try running batch and realtime pipelines as well as using the built-in Wrangler plugin to perform some interesting transformations on data.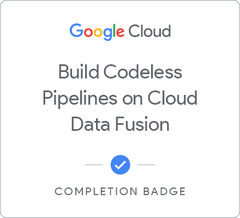 When you complete this activity, you can earn the badge displayed above! View all the badges you have earned by visiting your profile page. Boost your cloud career by showing the world the skills you have developed!
info
Quest Info
English
What do I do when I finish this quest?
After finishing this quest, you can explore additional content in your learning path or browse the learning catalog.
Upon finishing a quest, you will earn a badge of completion. Some quests test your ability to apply your knowledge via a final assessment challenge lab. For these quests, you will receive a skill badge. Badges can be viewed on your profile and shared with your social network.