Getting Started with Go on Google Cloud
4 heures Débutant universal_currency_alt 4 crédits
Get started with Go (Golang) by reviewing Go code, and then creating and deploying simple Go apps on Google Cloud. Go is an open source programming language that makes it easy to build fast, reliable, and efficient software at scale. Go runs native on Google Cloud, and is fully supported on Google Kubernetes Engine, Compute Engine, App Engine, Cloud Run, and Cloud Functions. Go is a compiled language and is faster and more efficient than interpreted languages. As a result, Go requires no installed runtime like Node, Python, or JDK to execute.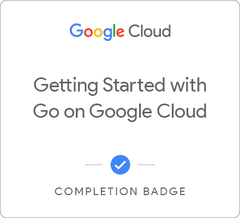 Terminez cette activité et gagnez un badge ! Boostez votre carrière dans le cloud en montrant les compétences que vous avez acquises.
Atelier
In this lab you explore the basics of Go (golang) by compiling and testing a Go app interactively, deploying it to App Engine, then access data in BigQuery and Firestore.
Atelier
Use GO (golang) to deploy an app on App Engine, Cloud Run, and Cloud Functions using Cloud Build
Atelier
In this lab you'll build an HTTP Cloud Function in Go.
info
Informations sur la quête
For the best learning experience, students should have basic familiarity with programming concepts and cloud essentials.
English
Que faire après avoir terminé cette quête ?
Après avoir terminé cette quête, vous pouvez consulter les autres contenus de votre parcours de formation ou parcourir le catalogue de formations.
Quels badges pouvez-vous gagner ?
Lorsque vous terminez une quête, vous obtenez un badge de réussite. Dans certaines quêtes, vous devrez mettre en pratique vos connaissances lors d'une évaluation finale sous forme d'atelier challenge. Pour ces quêtes, vous recevrez un badge de compétence. Vos badges s'affichent sur votre profil, et vous pouvez les partager sur les réseaux sociaux.