Explore Machine Learning Models with Explainable AI
5 hours Fundamental universal_currency_alt 8 Credits
Earn a
skill badge
by completing the
Explore Machine Learning Models with Explainable AI
quest, where you will learn how to do the following using Explainable AI: build and deploy a model to an AI platform for serving (prediction), use the What-If Tool with an image recognition model, identify bias in mortgage data using the What-If Tool, and compare models using the What-If Tool to identify potential bias.
A skill badge is an exclusive digital badge issued by Google Cloud in recognition of your proficiency with Google Cloud products and services and tests your ability to apply your knowledge in an interactive hands-on environment. Complete this skill badge quest and the final assessment challenge lab to receive a skill badge that you can share with your network.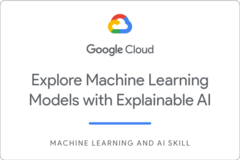 When you complete this activity, you can earn the badge displayed above! View all the badges you have earned by visiting your profile page. Boost your cloud career by showing the world the skills you have developed!
Lab
In this lab, we demonstrate the use of the what-if-tool for image recognition models.
Lab
In this lab, you use the What-if Tool to identify potential biases in a model trained on mortgage loan applications.
Lab
In this challenge lab you'll apply knowledge of AI Platform and the What-If Tool to identify and address bias in datasets.
info
Quest Info
Prior to enrolling in this skill badge quest it is recommended that you complete the [Perform Foundational Data, ML, and AI Tasks in Google Cloud](https://www.qwiklabs.com/quests/117) skill badge quest.
English, français, português (Brasil), español (Latinoamérica), and 日本語
What do I do when I finish this quest?
After finishing this quest, you can explore additional content in your learning path or browse the learning catalog.
Upon finishing a quest, you will earn a badge of completion. Some quests test your ability to apply your knowledge via a final assessment challenge lab. For these quests, you will receive a skill badge. Badges can be viewed on your profile and shared with your social network.