Managing Change when Moving to Google Cloud
universal_currency_alt Free
Moving to the cloud creates numerous opportunities to start working in a new way and it empowers the workforce to better collaborate and innovate. But it's also a big change. Sometimes the success of the change hinges not on the change itself, but on how it's managed. This course will help people managers to understand some of the key challenges associated with cloud adoption, and provide them with a verified in-the-field framework that will assist them in supporting their teams on the change journey. By addressing the human factor of moving to the cloud, organizations increase their chances of realizing business objectives and investing in their future talent.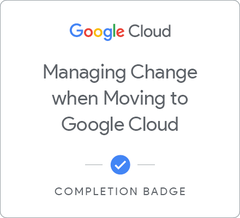 When you complete this course, you can earn the badge displayed above! View all the badges you have earned by visiting your profile page. Boost your cloud career by showing the world the skills you have developed!
info
Course Info
Why organizations move to the cloud.
The organizational and individual challenges associated with moving to the cloud.
How the Cloud Maturity Scale can help prioritize and organize next steps to further progress.
The five common cloud change paths.
How the Google Cloud Change Management Methodology can accelerate Google Cloud adoption by increasing readiness and performance of your people.
English
What do I do when I finish this course?
After finishing this course, you can explore additional content in your learning path or browse the catalog.
Upon finishing the required items in a course, you will earn a badge of completion. Badges can be viewed on your profile and shared with your social network.
Interested in taking this course with one of our authorized on-demand partners?
Prefer learning with an instructor?
View the public classroom schedule
here.
Can I take this course for free?
When you enroll into most courses, you will be able to consume course materials like videos and documents for free. If a course consists of labs, you will need to purchase an individual subscription or credits to be able consume the labs. Labs can also be unlocked by any campaigns you participate in. All required activities in a course must be completed to be awarded the completion badge.