Business Transformation with Google Cloud
universal_currency_alt Free
What is cloud technology or data science and what's all the hype about? More importantly, what can it do for you, your team, and your business? If you want to learn about cloud technology so you can excel in your role, help build the future of your business and thrive in the cloud era, then the Business Transformation with Google Cloud course is for you. Through this interactive training, you'll learn about core cloud business drivers—specifically Google's cloud—and gain the knowledge/skills to determine if business transformation is right for you and your team, and build short and long-term projects using the "superpowers" of cloud accordingly. You'll also find several templates, guides, and resource links through the supplementary student workbook to help you build a custom briefing document to share with your leadership, technical teams or partners.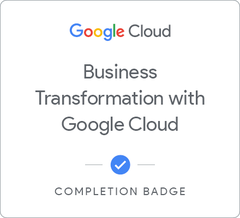 When you complete this course, you can earn the badge displayed above! View all the badges you have earned by visiting your profile page. Boost your cloud career by showing the world the skills you have developed!
info
Course Info
Explain what cloud technology is and the top reasons the cloud era is revolutionizing business.
Identify ways cloud technology can create more value in your day-to-day work and for your overall organization.
Explain how a combination of an innovation mindset and specific business principles and practices can help to organically promote an innovation culture.
Craft an ideal transformation challenge for your organization.
Recognize today's top cybersecurity challenges and the importance of a shared responsibility plan for maintaining data security and privacy.
Identify components of a security program to build into your transformation journey.
Build a business case and summary page for your overall transformation project using the templates provided.
English
What do I do when I finish this course?
After finishing this course, you can explore additional content in your learning path or browse the catalog.
Upon finishing the required items in a course, you will earn a badge of completion. Badges can be viewed on your profile and shared with your social network.
Interested in taking this course with one of our authorized on-demand partners?
Prefer learning with an instructor?
View the public classroom schedule
here.
Can I take this course for free?
When you enroll into most courses, you will be able to consume course materials like videos and documents for free. If a course consists of labs, you will need to purchase an individual subscription or credits to be able consume the labs. Labs can also be unlocked by any campaigns you participate in. All required activities in a course must be completed to be awarded the completion badge.