Google Cloud Fundamentals: Core Infrastructure
universal_currency_alt 35 Credits
This course provides an overview of Google Cloud products and services. Through a combination of presentations, demos, and hands-on labs, participants learn the value of Google Cloud and how to incorporate cloud-based solutions into business strategies.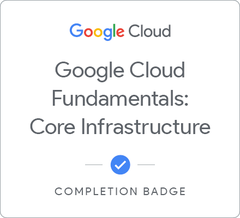 When you complete this course, you can earn the badge displayed above! View all the badges you have earned by visiting your profile page. Boost your cloud career by showing the world the skills you have developed!
info
Course Info
Identify the purpose and value of Google Cloud products and services
Interact with Google Cloud services
Describe ways in which customers have used Google Cloud
Choose among and use application deployment environments on Google Cloud: Google App Engine, Google Container Engine, and Google Compute Engine
Choose among and use Google Cloud storage options: Google Cloud Storage, Google Cloud SQL, Google Cloud Bigtable, and Google Cloud Datastore
Make basic use of BigQuery, Google's managed data warehouse for analytics.
Make basic use of Google Cloud Deployment Manager, Google's tool for creating and managing cloud resources through templates. Make basic use of Google Stackdriver, Google's monitoring, logging, and diagnostics system.
Familiarity with application development, systems operations, Linux operating systems, and data analytics/machine learning is helpful in understanding the technologies covered.
Individuals planning to deploy applications and create application environments on Google Cloud.
Developers, systems operations professionals, and solution architects getting started with Google Cloud.
Executives and business decision makers evaluating the potential of Google Cloud to address their business needs.
English and 日本語
What do I do when I finish this course?
After finishing this course, you can explore additional content in your learning path or browse the catalog.
Upon finishing the required items in a course, you will earn a badge of completion. Badges can be viewed on your profile and shared with your social network.
Interested in taking this course with one of our authorized on-demand partners?
Prefer learning with an instructor?
View the public classroom schedule
here.
Can I take this course for free?
When you enroll into most courses, you will be able to consume course materials like videos and documents for free. If a course consists of labs, you will need to purchase an individual subscription or credits to be able consume the labs. Labs can also be unlocked by any campaigns you participate in. All required activities in a course must be completed to be awarded the completion badge.