Hybrid Cloud Infrastructure Foundations with Anthos
Advanced universal_currency_alt 5 Credits
Welcome to Hybrid Cloud Infrastructure Foundations with Anthos!
This is the first course of the Architecting Hybrid Cloud Infrastructure with Anthos path. Anthos enables you to build and manage modern applications, and gives you the freedom to choose where to run them. Anthos gives you one consistent experience in both your on-premises and cloud environments.
During this course, you will be presented with modules that will take you through skills that you will use as an architect or administrator running Anthos environments. The modules in this course include videos, hands-on labs, and links to helpful documentation.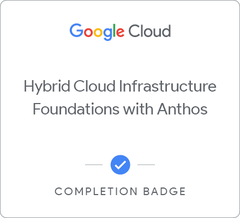 When you complete this course, you can earn the badge displayed above! View all the badges you have earned by visiting your profile page. Boost your cloud career by showing the world the skills you have developed!
info
Course Info
Understand modern solutions and the Anthos technology stack.
Connect and manage Kubernetes Engine clusters from GCP Console whether clusters are part of Anthos on Google Cloud or Anthos deployed on VMware.
Understand how service mesh proxies are installed, configured and managed.
Completed Google Cloud Fundamentals:Core Infrastructure or have equivalent experience
Completed Architecting with GKE or have equivalent experience
Technical employees using GCP, including customer companies, partners and system integrators:deployment engineers, cloud architects, cloud administrators, system engineers , and SysOps/DevOps engineers
Individuals using GCP to create, integrate, or modernize solutions using secure, scalable microservices architectures in hybrid environments
English
What do I do when I finish this course?
After finishing this course, you can explore additional content in your learning path or browse the catalog.
Upon finishing the required items in a course, you will earn a badge of completion. Badges can be viewed on your profile and shared with your social network.
Interested in taking this course with one of our authorized on-demand partners?
Prefer learning with an instructor?
View the public classroom schedule
here.
Can I take this course for free?
When you enroll into most courses, you will be able to consume course materials like videos and documents for free. If a course consists of labs, you will need to purchase an individual subscription or credits to be able consume the labs. Labs can also be unlocked by any campaigns you participate in. All required activities in a course must be completed to be awarded the completion badge.