Machine Learning Operations (MLOps): Getting Started
1 day Introductory universal_currency_alt 5 Credits
This course introduces participants to MLOps tools and best practices for deploying, evaluating, monitoring and operating production ML systems on Google Cloud. MLOps is a discipline focused on the deployment, testing, monitoring, and automation of ML systems in production. Machine Learning Engineering professionals use tools for continuous improvement and evaluation of deployed models. They work with (or can be) Data Scientists, who develop models, to enable velocity and rigor in deploying the best performing models.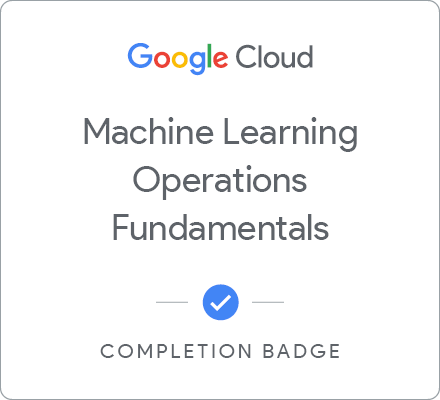 When you complete this course, you can earn the badge displayed above! View all the badges you have earned by visiting your profile page. Boost your cloud career by showing the world the skills you have developed!
info
Course Info
Identify and use core technologies required to support effective MLOps.
Adopt the best CI/CD practices in the context of ML systems.
Configure and provision Google Cloud architectures for reliable and effective MLOps environments.
Implement reliable and repeatable training and inference workflows.
Completed Machine Learning with Google Cloud or have equivalent experience
Data Scientists looking to quickly go from machine learning prototype to production to deliver business impact. Software Engineers looking to develop Machine Learning Engineering skills. ML Engineers who want to adopt Google Cloud.
English
What do I do when I finish this course?
After finishing this course, you can explore additional content in your learning path or browse the catalog.
Upon finishing the required items in a course, you will earn a badge of completion. Badges can be viewed on your profile and shared with your social network.
Interested in taking this course with one of our authorized on-demand partners?
Prefer learning with an instructor?
View the public classroom schedule
here.
Can I take this course for free?
When you enroll into most courses, you will be able to consume course materials like videos and documents for free. If a course consists of labs, you will need to purchase an individual subscription or credits to be able consume the labs. Labs can also be unlocked by any campaigns you participate in. All required activities in a course must be completed to be awarded the completion badge.