Managing Machine Learning Projects with Google Cloud
3 days Introductory universal_currency_alt 20 Credits
Business professionals in non-technical roles have a unique opportunity to lead or influence machine learning projects. If you have questions about machine learning and want to understand how to use it, without the technical jargon, this course is for you. Learn how to translate business problems into machine learning use cases and vet them for feasibility and impact. Find out how you can discover unexpected use cases, recognize the phases of an ML project and considerations within each, and gain confidence to propose a custom ML use case to your team or leadership or translate the requirements to a technical team.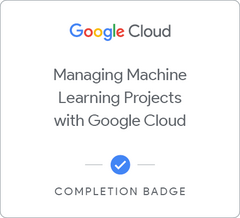 When you complete this course, you can earn the badge displayed above! View all the badges you have earned by visiting your profile page. Boost your cloud career by showing the world the skills you have developed!
info
Course Info
Assess the feasibility of your own ML use case and its ability to meaningfully impact your business.
Identify the requirements to build, train, and evaluate an ML model.
Define data characteristics and biases that affect the quality of ML models.
Recognize key considerations for managing ML projects.
• No prior technical knowledge is required. • Savvy about your own business and objectives. • Recommended: Business Transformation with Google Cloud (on-demand).
• Enterprise, corporate, or SMB business professionals in non-technical roles. • Roles include but are not limited to: business analysts, IT managers, project managers, and product managers.
English
What do I do when I finish this course?
After finishing this course, you can explore additional content in your learning path or browse the catalog.
Upon finishing the required items in a course, you will earn a badge of completion. Badges can be viewed on your profile and shared with your social network.
Interested in taking this course with one of our authorized on-demand partners?
Prefer learning with an instructor?
View the public classroom schedule
here.
Can I take this course for free?
When you enroll into most courses, you will be able to consume course materials like videos and documents for free. If a course consists of labs, you will need to purchase an individual subscription or credits to be able consume the labs. Labs can also be unlocked by any campaigns you participate in. All required activities in a course must be completed to be awarded the completion badge.